918.960.2990
office@istulsa.org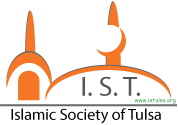 DONATION
AS-SALAAMU ALAIKUM - PEACE BE UPON YOU AND WELCOME TO ISLAMIC SOCEITY OF TULSA
Islam is one of the fastest growing religions in the world based on a simple message of worshipping only God. It is estimated that between 8000 - 10,000 Muslims live in the greater Tulsa area. Over 1500 worshippers visit our mosque on a weekly basis and around 1200 attend Friday prayer. Our goal is to support the local Muslim community and its spiritual development, provide education, and help build a stronger, more wholesome and successful Tulsa community through interfaith dialogue, community volunteerism and helping the needy.
The Islamic Society of Tulsa is diverse in its membership; roughly 35% of local Muslims have roots from East Asian countries, 30% are from Arab countries, another 25% are African American with origins dating back to the 1700's. The remaining 10% are converts from a multitude of backgrounds. Many of our local immigrants came over to the U.S.A. beginning in the 1960's, have been citizens for over 40 plus years. Though their heritage is diverse, over 50% of Tulsa Muslims are American born and their political views are equally diverse.
The mosque is open for the five daily prayers and holds services on Fridays from 1:00 - 1:45 and from 2:00pm - 2:45pm. We have a full-time Imam (scholar/clergy), who provides marriage services, counseling, classes and general advice. In addition we provide a variety of educational programs and community building activities for our members and their guests.
Tulsa Islamic School "Sunday School" focuses primarily on mosque based education. Sunday School is in session every Sunday, except scheduled holidays, from 10:00am to 12:30pm. It includes classes for adults, new Muslims and children. Classes are diverse and include Qur'an study, morals and manners, Introduction to Islam, History of Islam, How to speak Arabic, Hadith (Sayings of Prophet Mohammad pbuh), Fiqh and more. In addition we provide Monday, Wednesday, Friday night Qur'an classes and more throughout the week. Community dinners and activities, through Muslim Dawah, are also scheduled weekly - Friday or Saturday nights. Next door there is a full time Islamic School called Peace Academy, K-12.
Our "Community Outreach Programs" promote peace, community and intelligent dialogue between local Muslims and the Tulsa community at large. We offer mosque tours and public educational programs. Each summer we host a "Know Your Muslim Neighbor" lecture series where we open our doors and invite our neighbors in for fun ethnic food, tours, and guest speakers. In addition we host a variety of special public events. Every winter we team up with the Oklahoma Center for Community and Justice as part of an annual "Youth Tour of Congregations" and we have teen and adult Trialogue discussions about various aspects of our faiths.
The Islamic Society of Tulsa is a vibrantly diverse, welcoming community that finds that Tulsa is a great place to live. Tulsa Muslims believe that they are living the American dream, free to pursue so many opportunities. We look forward to meeting you!
Sincerely,
The Members of the Islamic Society of Tulsa and it's Governing Board.